I have decided that long car trips are great. While Jamie drove us to Ottawa, I got myself a lot of knitting done. Little by little, I will chip away at my stash!!

Okay, so first up we have the multidirectional scarf that I had pretty much finished, but decided to frog.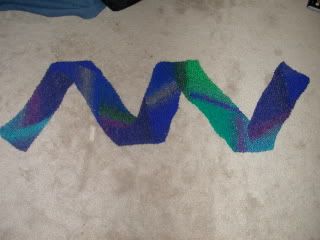 I ended up decreasing the number of stitches in it, as well as increasing the needle size to US11. Those two changes ended up making a huge difference in the way the scarf turned out. Using just two skeins of Silk Garden, I was able to make what was pretty much a 8-9 foot scarf. So, now I have a third skein of the same stuff that I had bought just in case, and I need to think of something to do with it. The photo of it didn't really turn out that well, but I think you've made enough multidirectional scarves to know what they look like!

Next, is the a 2x2 ribbed hat that I made from the Alchemy that the wonderful Adrienne gave me in our yarn swap, which I can't really call a swap because she never took anything from my stash in the end!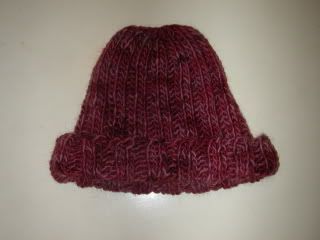 I originally thought I'd make the hat for Jamie, but he decided that the colour of the hat was too girly for him.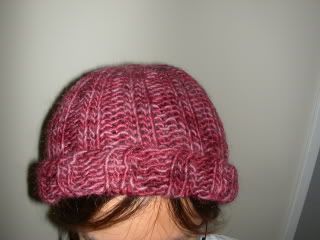 It's sometimes hard to try and take a photo of your own head!

>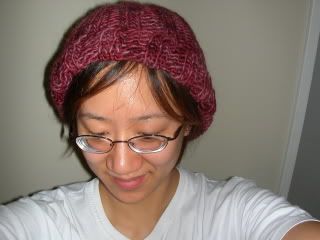 The thing I'm most proud about the hat project is the fact that I started it in the car on the way back from Ottawa (including winding the yarn), and was pretty much done by the time we got home. It was a nice, fun knit, and the Alchemy yarn was great to work with. It's really soft when it knits up, and the hat itself is quite squishy feeling due to the slightly larger than recommended needle size that I used. Unfortunately, it doesn't match with any coats that I own! Ha ha!!