....in the Curse of the Love Sweater? Well, I clearly must not, cuz look what I made!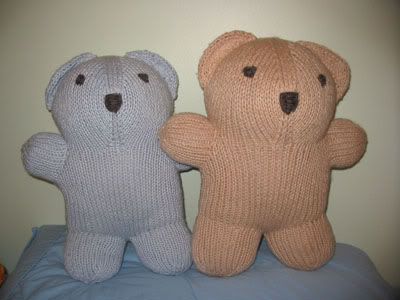 Two Baby Bobbi Bears, one for baby cousin Jayson (the blue one), and one for grownup Jason (the brown one), both of whom have birthdays this month. Aren't they adorable? Cutest bear pattern ever.
I actually did ponder the Curse for a few minutes before ordering the yarn for both projects, but decided not to worry about it because a)it's a bear, not an entire sweater (please ignore the fact that I've never actually made a sweater), and b)if I'm knitting two it must dilute out the effect somewhat, right? Not to mention that c)I live a charmed life and I laugh in the face of curses. =P
Some things I learned while knitting the bears:
1) Stuffed animal patterns aren't as scary as they seem.
2) Large double pointed needles (US9) can get unwieldy.
3) And they can hurt if you accidentally poke yourself with one.
4) Blue Sky Alpacas cotton (dyed and organic) is very soft and yummy yarn.
5) How to duplicate stitch.
6) Be generous with the stuffing.
7) The only stuffing worth using is Cluster Fill. It feels like slippery little polyester balls, and it is magical. Regular polyester filling will make your stuffed thing all lumpy and gross. I now worship at the altar of Cluster Fill.