Okay...so I started the scarf using US8's. I'm wondering if I picked a needle size a bit too big, but the yarn I got didn't recommend a size, and it's about the same as the Elizabeth Lavoy. I was worried about using something too smallbecause there's only 25 stitches, and I didn't want the scarf to be too narrow.

Here's a picture of what I've got so far.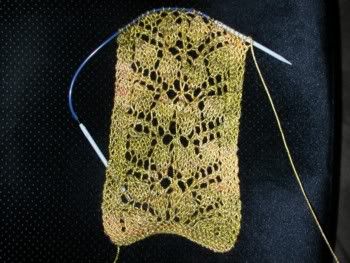 Hmmm...acutally, when I look at it in the photo, it looks more or less okay. I was worried that the needle size was too big and that you couldn't see the pattern. What do you guys think? Think it's okay as it is? I don't want to keep going if I'm just going to frog it and start over again on smaller needles. Right now, I'm leaning on the side of just keeping it.

But let me tell you, it's awesome knitting with this stuff. When it's all knitted up, it's SOOO soft and silky. I totally recommend getting some!