OK, so I knit a hat this weekend. There was some yarn marinating in my stash that I wanted to knit up, so I picked a hat pattern that looked interesting, and started knitting away. Problem is, I didn't realize that maybe the yarn + pattern wasn't the best combination until I was halfway through the hat. And then I figured I might as well finish it anyway, to see how it turned out in the end. So here it is. What do you think, acceptable, or fugly as hell?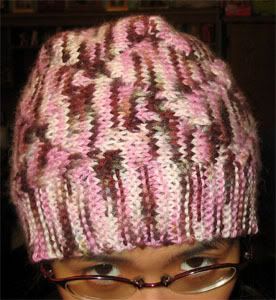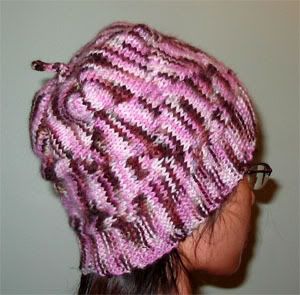 This is the Short Row Hat from the Winter 2005 issue of Interweave. If you click on the link to the pattern (a pdf), you'll notice that the knitter has chosen a softly striping yarn which gives the short row squares a lovely entrelac-y look. What did I choose? Crazy variegated goodness, you can't even see the stupid diamond-things. I should have saved myself the short row hassle (although now I'm pretty good at YO short rows!) and knit something in plain stockinette instead. But now I don't care enough to rip it all out. I will probably wear it anyway, even though I suspect that it should really stand out as an example of what not to knit. =)
But it hasn't been all disasters over here Chez Chen, here is a lovely Irish Hiking Scarf knit in Rowan's new Tapestry yarn, a Christmas prezzie-to-be. I love the way it stripes (should've used it for the Short Row Hat!). I wasn't such a huge fan of its splittiness while knitting it, but I definitely think the end effect was worth it.