....is to knit something that drives you absolutely batshit crazy, so that you can only work on it in small doses at a time. Here is my current project of woe: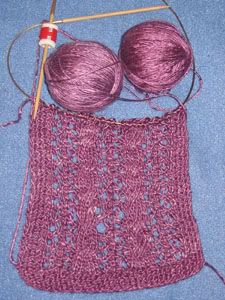 Lovely, isn't it? That's Alchemy Silk Purse, and the scarf is this pattern. I bought it because I've always wanted to try it, and it was on super-duper-irresistable sale. It is currently known as Jason's Mom's Scarf (see, getting around the stash guilt by making into a gift!), though whether I'll actually finish the scarf before I go completely insane remains to be seen.
The silk is lovely and soft, but it is also slubby and a single ply so there tends to be a lot of snagging and halo-ing (especially if you've had to tink back as much as I've had to). Also, the silk totally sticks to my bamboo needles, so much so that I'm considering giving metal needles a try, even though I find them icky and hand-hurty. Lesser of two evils, perhaps? In addition, the two balls of yarn are completely different shades of purple (not sure if you can make it out in the picture), so I have to do that annoying alternating rows thing. One of the drawbacks of buying handdyed yarn from an online store, I guess.
Anyway, the yarn is yummy, and the pattern is quite attractive, but the knitting experience has not exactly been a walk in the park so far. Then again, I'm supposed to be doing this in small doses (if at all), and this is definitely keeping me from overexerting myself. =)