Wow, I've been a terrible blogger (and knitter) recently. I wish I could say something like "oh, I've been absent because big and exciting things are happening in my life", but the truth is simply that I've just been lazy. =P In any case, here are a couple of things that have been on the knitting agenda as of late:
Fun with socks! Toe-up socks in Lorna's Laces Shepherd Sock, the Somerset colourway (notice the fun pink!).
A while back I bought a bunch of Berroco Softwist on sale, and it's been languishing in my closet ever since. Since I need a new "big" project and I'd rather knit lace than something useful like, say, a sweater, I started an Evening in Eden shawl a couple of days ago. I've done one pattern repeat so far, and I'm not entirely sure how I feel about it at this point. The yarn is the right weight for the pattern, and it's a pretty colour and is slightly shimmery, and it has a springy quality that reminds me of Koigu Kersti, but I'm not sure it's 100% right for this shawl. Then again I'm not used to knitting lace using worsted weight yarn, so maybe it would look thick and heavy no matter what yarn I used.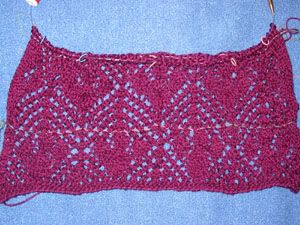 Lastly, a mom-endorsed yarn purchase, more Malabrigo in the Loro Barranquero colourway, for a fun scarf and possibly also a hat. Aren't the colours pretty?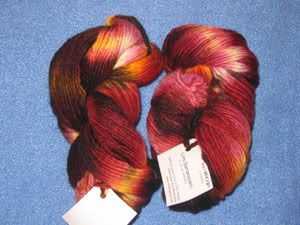 One more thing, I think I'm going to put myself on another yarn diet (in addition to the donut and semi-ice cream diets I'm on) for the month of June. The stash, it overfloweth. I haven't shown you the sock yarn I bought off eBay, because I forgot to take pictures. But I have lots more Lorna's Laces waiting to be knit up. =)
P.S. I hate Blogger, it's driving me up the wall. It took me ages to get this post to format correctly. Argh!