Hurrah, hurrah, some finished knit items! All knit from stash, enabling me to subtract around 20 skeins (23 if we count all half-skeins as "used" =P) from the stash total. Which should make me feel really good and free to go buy more yarn, right? Funnily enough, I don't really feel like it. I like this knitting-from-stash thing so far. Of course, I'm not actually supposed to be knitting right now....and I'm not really, I promise!
OK, onto the unveiling. Here is the Mission Falls Log Cabin Blanket, finished and bordered and with all the ends woven in (which are in the back, of course):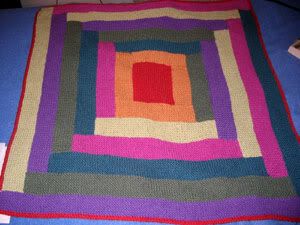 Next up, a quickie garter stitch scarf knit in Colinette Zanziba using 7 mm needles (fun pink plastic Crystal Palace Daisy needles!). I used 2 skeins, one in colour 100 (Gauguin) and one in colour 101 (Monet), alternating every 2 rows. These skeins were my very first Colinette purchase, and will probably be my last, since I've discovered that I'm not really the hugest fan of bulky yarns.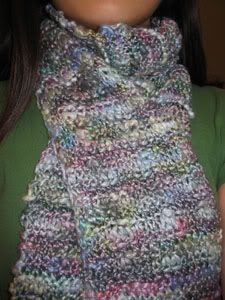 And finally, a sweater! My second sweater! A fun cabled short-sleeved Michael Kors sweater, from the Holiday 2005 issue of Vogue Knitting. Knit using Jaeger Extra Fine Merino Aran, colour 552. The seams still need a light steaming, but I thought I'd show it you anyway. It was hard to take a picture of myself wearing it.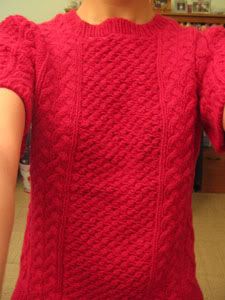 Here is a closeup of the 3 patterns used in the sweater. A diamond-with-berry thing, regular ol' braided cables, and a berry stitch pattern that was quite the pain in the arse. I'm very glad that I knit this thing in the sweater class, because the directions for the neck shaping in the front were just plain wrong, and I probably wouldn't have been able to figure it out myself. I'm finding that a lot of patterns have mistakes in them.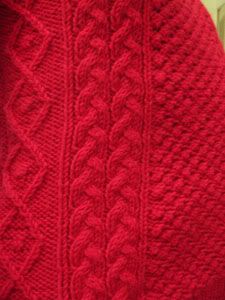 There is this one glaring (to me) mistake in the sweater, but everyone insists that they would never see it unless I specifically pointed it out to them, so I'll resist the urge to point out my deficiencies as a knitter and just leave it at that. =)
Where is my first sweater, you ask? That blue cardigan-thing? Well, it's completely done, except I haven't sewn the buttons on yet. I'm debating whether I even want buttons. That thing was such a chore to knit. Pictures some other time, when I feel like lugging it out. =)
So how do I feel, with two sweaters under my belt? I'm not sure I'm really a knitter-of-sweaters. I feel like I get bored too easily, that the novelty wears off. It was only having the sweater class that kept me motivated to keep knitting. So I'm taking a break from that for now, since I've been having wrist issues, and turning my attention to smaller projects and thinking about Christmas presents. It's never too early to plan!