Right-o. Got off my lazy butt and took some pictures.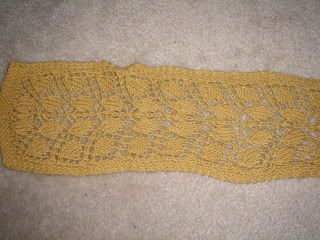 Here's a Branching Out scarf that I made for myself out of Cotton Patine. It's a nice fall scarf and I wear it a lot right now. The only thing I don't like about it is the fact that you don't always seen the pattern clearly when you're wearing it.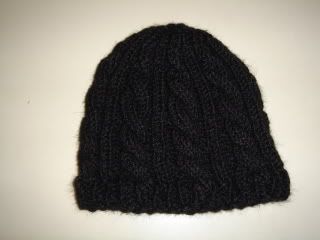 And here's a cable hat that I made out of Blue Sky Alpaca (it's hard to see the cables because of the color choice. sorry). I used two strands knit together to make it nice and warm, and

super

soft. I originally made it for Jamie, but he doesn't want it because he can't fold up the bottom and have it still cover his ears. Never mind the fact that you're not

supposed

to fold up the bottom. Oh well. It was fun to knit up. But yeah...see what I mean about knitting things for people who won't wear them? Guess that means I should only knit for myself since I'll be sure to use whatever it is I make!

2006/09/13 Edit: Guess I was sufficiently ticked off last night that Jamie decided to reconsider not wanting the hat. He said that he'll give it a try, and maybe change is good.