Well, with the New Year, comes new projects. The first thing I should probably do is to go through and do an inventory of all the yarn I already have! Ha ha! But anyway, that can wait...

I started myself a multidirectional scarf out of Noro Silk Garden that I purchased at the Lettuce Knit Boxing Day sale. They were taking 30% off, so I just couldn't resist. Here's what I've got done so far...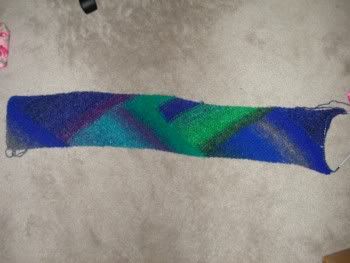 At that very same shopping trip, I bought some Lorna's Lace for some socks, but I haven't started those yet either. And the reason why I'm not going to get to for a while is because of....

The Peacock Feathers Shawl. I wasn't able to get the yarn from Lettuce Knit (well, they said they'd order it for me, but they weren't planning to order from Fiddlesticks in a while so they didn't know when that would be), so I ordered it off the web. It arrived yesterday, so I'm itching to start the shawl for my dance teacher. I have until June, so I figured that if I start now I should be okay. Here's a picture of the yarn.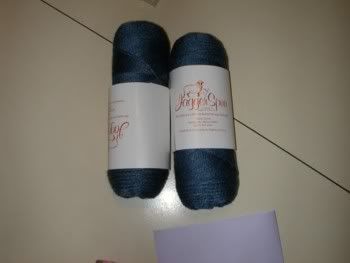 I've also decided to hurry up and wrap up that baby sweater that I was making. I'm pretty much done, but never really felt the drive to complete it. But now one of the medical fellows who sat in my office has become a dad, I figured that I could give it to him! The sweater is knit for a baby about 1 year old, so it'll be a while before he can use it, but it's good incentive to get it done. It's not going to be the best looking sweater, I'll admit, because I didn't really do the best job in doing ths stripes, but oh well. You live and learn. I've learned that if I'm going to knit that sweater again, I'm going to use variagated yarn! Ha ha!!!