Okay...so I finally got off my lazy @$$ and took some photos.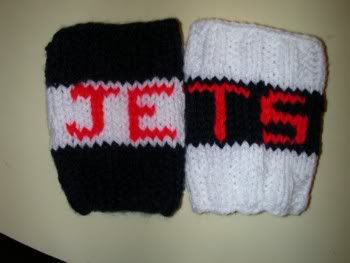 These are the beer cozies that I made for my friend Aaron. I think they're a little small though. I tested them on a bottle of Keith's India Pale Ale and they fit okay, but I don't know how well they'll do for fatter bottles. Plus it was hard doing the letters with pseudo-intarsia (at least I think that's what it's called). I never knew how much slack to leave. As a result, the middle part isn't all that stretchy. But oh well. They're mostly just a novelty anyway.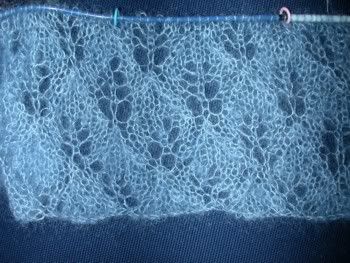 And here's that shawl I'm working on. As you can see, it's taking me quite a long time. But I'm happy with the way things look. Boy, it's SOOO much easier when I use stitch markers. Lace can be a bit of a pain though. Plus the Kidslik is so darn thin. On the upside, the shawl feels sinfully soft!