So several weeks ago I started this Evening in Eden shawl with some Berroco Softwist that I had bought on sale many many moons ago. I figured that the yarn was a pretty colour and the right weight, and the pattern wasn't bad, so why not? Except now I've made it through half the shawl and....well, I sort of hate it. Well, hate is perhaps too strong a word, but I am certainly not overflowing with affection and goodwill towards this particular knitted item.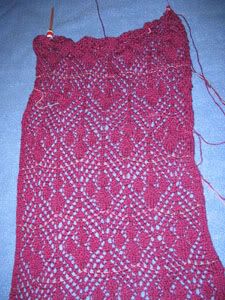 Why do I dislike it? Well, for starters, the pattern, while interesting and easy enough to knit, does not call out to me. At first I thought, hey, look at the cute paw-print-like things! But now I'm thinking, paw prints? Why am I knitting paw prints?! Secondly, the yarn, it is slippery and splitty. I've mostly managed to avoid splitting the yarn, but when it splits, it's rather irritating. Additionally, I realized about 3 (48-row) repeats in that I somehow thought "garter stitch edging" meant "do it in stockinette!" and now my edges are all curly. At the time I didn't want to rip out the whole thing just to fix the edging, but now it's staring me in the face and mocking me for my stupidity.

So, what do I do? Do I rip out the whole thing? Do I throw it in the closet never to look at it again? Or do I suck it up and make a slightly shorter version of the shawl, with 6 repeats instead of 7, and leave it at that? I think I have 8 or 9 skeins of this yarn, not quite enough to make a sweater (not that I would want to even if I did, the yarn was cheap and a reasonable colour, but I bought it during my reckless-yarn-buying stage, and I don't love it by any means), so if it's not going to be this shawl, I don't think it's going to become anything else. I'm leaning towards just making the shortest shawl I can get away with and moving on to something else.
I think I'm more of a process knitter, I enjoy trying new things and watching them take shape much more than actually having the finished product (I've lost interest in most of the things I've finished). So if I don't consider the project (or the yarn) fun/interesting/beautiful my patience drops considerably. Just another example of my fickle nature, I guess.