Well, I sucked it up and finished the Evening in Eden shawl. And blocked it, and fringed it. And you know what? It didn't turn out too badly in the end. I did one less pattern repeat than recommended (6 instead of 7), but it still came out to a good 5+ feet long, which is plenty long enough in my book. I am resigned to the stupid stockinette border, it curls a little less now that it's blocked.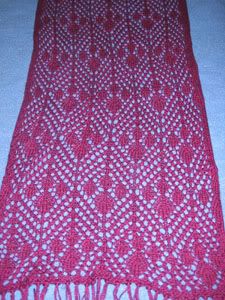 In any case, I consider this shawl to be good practice for some other, more complicated shawls that I covet, in particular this
Flirty Ruffles Shawl
, and possibly this
Lotus Blossom Shawl
. Yummy.
In the meantime, I've started another little lace project. Last year I bought a lovely skein of Schaefer Anne yarn, to make the Pooling Colors (I'm only using the American spelling because that's what the pattern says!) scarf from the
Fall 2004
issue of
Interweave Knits
.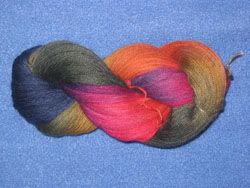 I wound the skein (560 yards!) into a ball (it took an hour! Thank heaven there was no tangling involved), and attempted to make the yarn pool. The way the scarf works is that the yarn is space-dyed, so you try to work it so that each row takes up exactly the amount of yarn in a single colour repeat, so that as you knit horizontally you create a vertical striping effect. I thought the concept was pretty cool. As you can see, I've managed to make my yarn sort of pool (except for the cast-on edge and the very first row, but I knew that there was no way I could make that part work so I just let it do what it would....except that it's bugging me....to the point where I want to rip it all out and make it work, even though I've tried it already and know that it won't....the cast-on edge takes up too much yarn....argh....must learn to take a more Zen-like attitude towards the knitting....). It doesn't have an exact vertical striping thing going on like I've seen in some cases, and the colours tend to drift back and forth and get a little muddied in places, but overall it's not too bad. I think it shows off the lovely colours of this yarn pretty well.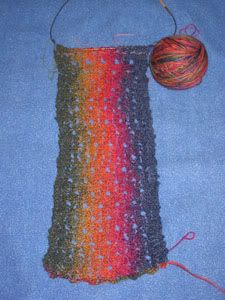 The lace pattern isn't complicated and is pretty easily memorized, so far this is a fairly mindless knit except for keeping track of the pooling. I've taken to inserting lifelines every 24 rows in case I mess up and need to rip back. I'm not 100% in love with it at this point because of the cast-on edge and the drifting colours, so I don't know if I want to keep it or not. Although the last thing I want to do is to earmark this yarn for more socks, I have enough sock yarn as it is. Suggestions? Opinions?
Edited to add: OK, so I decided to rip the scarf out and start again. The cast-on edge looks a little better now (but it still doesn't quite line up, of course), and it's still pooling the way as it is in the picture. So much for letting things be. =)