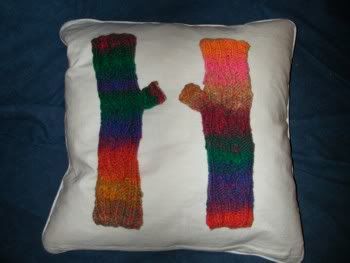 So, I managed to finish these armwarmers for Miranda. They're the 'Hurry Up Spring' ones from Stich 'n Bitch Nation. It's a pretty fun pattern and actually knits up pretty quickly when you put your mind to it. I was a little annoyed with the fact that it took

just

over one skein of Noro Kureyon to finish it. I was too lazy to pick the right part in the yarn to get the identical striping pattern, but now that I look at them side by side it's a little unfortunate that I didn't. Oh well. I guess that's why they tell you to get two skeins.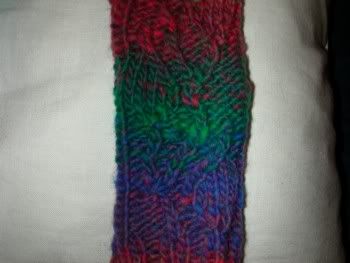 This shot is supposed to be a close-up of the leaf and branch pattern on them. I don't know if I made mistakes reading the chart or not, but there were definitely places in it that didn't seem to work out properly. And they really should have explained the whole reversing of the pattern part for the left-hand armwarmer way better than they did. They just said to read the chart from the left to right instead of right to left, and it's NOT THAT SIMPLE!! They don't explain that you have to reverse the entire pattern, and that caused me a little confusion.

All in all, this was a fun knit, though I wish there weren't so many mistakes in the pattern. You can't just mindlessly follow it, otherwise you'll run into trouble. The part where they tell you to make the thumb gusset it totally messed up if you don't start your 2x2 ribbing with p1 k2, instead of the k2 that most people would do, right from the start. And they don't tell you that little detail either. So, I just ignored what they said and just made the thumb gusset following the rib pattern and it turned out fine.

Now to put these in the mail, and hopefully they'll get to her some time before winter in Tokyo ends! HA HA!!!!