So Charlotte is finally done and blocked! She has a crochet edging as per the instructions (it's not perfect, I tried my best), but I'm going to hold off on the fringe for now. I don't think I'm really a fringe-y kind of girl. Here is a picture of her being blocked, if you look down at the last colour you can see the lace pattern that emerged. Blocking really does do magical things to lace!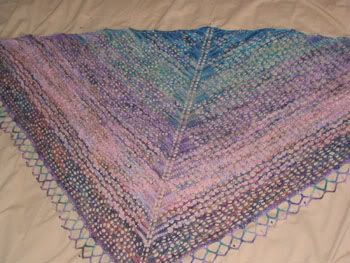 She was a lot of fun to knit and I can't wait for warmer weather and an appropriate occasion at which to wear her. What that is I have no idea, I'll have to manufacture something. =)
Now that Charlotte is done, I can move on to Clapotis. I have finished all the increases, and am almost at the part where I get to drop some stitches! Very exciting. I don't have a recent photo, but here's something to give you an idea of how the Malabrigo knits up. What the picture doesn't convey is just how soft and yummy this yarn is.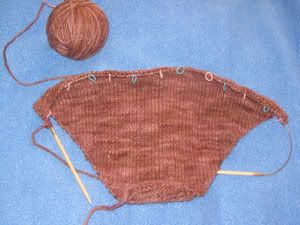 I've also discovered something about this yarn.
Malabrigo yarns
, the eBay seller
sanfelipeysantiago
, and
handpaintedyarn.com
all appear to be the exact same thing in slightly different incarnations. I am very tempted to buy more yarn from handpaintedyarn.com for another Clapotis simply because their prices are so good. Must....resist....soft....yarn....