Okay...so here is that pic I promised of the scarf that I started.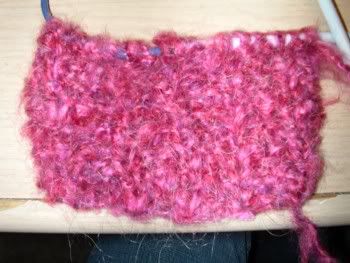 You'll notice that I've gotten pretty much nowhere with it. And the reason is, I'm not really sure what to make of the pattern. The pseudo-rib doesn't show up very well with it. Think I should 'ribbit' and go for a 2x2 rib instead? Maybe 20 stitches wide? The sample shown in the pic has 17 stitches in it. Or maybe something with drop-stitches in it? Or maybe even try the multi-directional scarf pattern?

*sigh* back to square one with this scarf thing...


EDIT: Thanks for the Valentine and Lick-m-aid!!! I was so surprised when I got it in the mail!! *tacklehugz you*