So, my knitting has been less than stellar this past while. I've hardly gotten anywhere with anything! I guess one bad thing, if you could even call it that, about living so close to where you work is that there is no knitting time on transit. And lately I've hardly had time to sit down for 20 minutes.

Anyway, I digress....as promised, a picture of the 3x3 rib scarf I've started.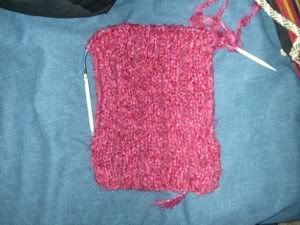 I don't think the ribbed effect comes out in the picture very well, but you can definitely see/feel it when you touch the scarf. The mohair makes it nice and soft. I finished most of this while watching the Oscar's last night, which I wasn't planning to do, but somehow got sucked into.

In other news, I think I'm going to try that Kidsilk shawl again soon. With any luck, I'll be able to finish it by Mother's Day. Hmm...actually, now that I've 'written' it there, I'm already wondering if I'll be able to do it...Ah, what the heck. What's life without some goals, right?!

Not like my mom really needs a shawl or anything, but it's not about needing an item anyway, right?