But even still, they aren't really of anything in particular. Ha ha!!

First off, an increase to my stash thanks to that annual event that is my birthday! Thanks to my friends Carolyn and Elaine, who figured that since my kitties are keeping me from knitting, why not knit something for the kitties!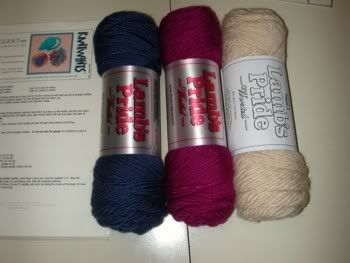 I'm actually almost done making a magenta toy mouse. I just need to sew eyes on, felt it, and stuff it. It'll be my first felting project!! While I was working on it, Hanatarou kept wanting to play with it, so I hope that still stands after it's all finished.

About a week ago, I went with Elaine to Romni. I wasn't planning to get anything, and she was looking for needles and a row counter. But we all know how well those "I'm not getting anything" trips work out, right? Actually, I was looking for sewing supplies in that area, so I figured why not go as well. We stopped in a lot of places so I could look for black elastic. Alas, we didn't find any. However, while we were in a dollar store looking for elastic, we found these.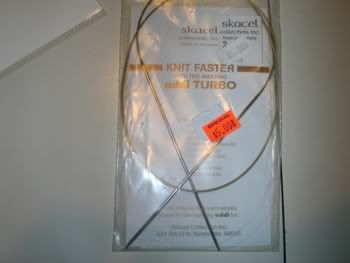 I don't know if you can read the price tag all that well, but it says $5.00. Yup. Only $5 Canadian for a pair of Addi turbos. I bought the size 0, and Elaine bought the size 1 and 3 (if I remember correctly). Even though I sometimes find Addi's a little slippery, I still like them and a deal like that was just too good to pass up.

And then we went to Romni, and I saw a whole bunch of Crystal Palace needles that I just drooled over but didn't buy. What I did buy was another skein of the Manos del Uruguay in colourway 107 for the Clapotis that I'm making.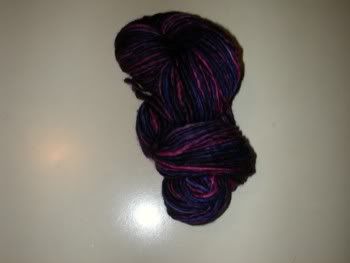 I wasn't sure if I had enough, so I figured that there was no harm in getting one more skein just in case.

And then I saw....yummy, yummy cashmere....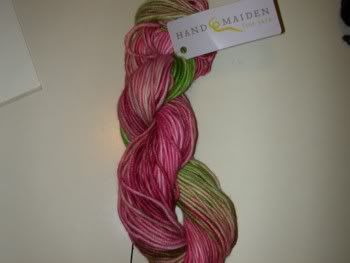 I just couldn't resist. They had this really cute scarf knitted up from it. I asked them what the pattern was and the salesperson said it looked like it was just a [yo k2tog] scarf. I'm not totally sure though. I think I'm going to have to go back and look at it again so I can be sure. And if I really can't figure it out, then I'll just exchange it ^_^ (ha ha...like that's gonna happen!)