I was in my LYS a while ago, buying a row counter and needle protectors and browsing the yarn selections, when I came across one of the new Debbie Bliss yarns for fall. Cashmerino Astrakhan, a new addition to their cashmerino line that has a boucle-y texture.

There was a swatch, and it was so very soft and plush, and the yarn came in such fabulous colours, that I just *had* to get some. I was envisioning plushy accessories, either a scarf or a hat or some wrist-warmers. So I picked up a couple of skeins, a dark pink one and a brown one, and brought them home with me to play with. That's where the trouble began. I thought hey, stripey wrist-warmers! So I cast on in the round and started a rib pattern, but I had cast on too many stitches. Ripped it all out, cast on again, dropped stitches and couldn't recover (this happened more times than I care to admit). Ripped it all out again, cast on using smaller needles, still too big. Ripped it out yet again, cast on using fewer stitches, now it was too small and not very stretchy. Abandoned the wrist-warmer idea altogether, thought about maybe a hat. Cast on for a hat, didn't like the way it was turning out, ripped everything out for the billionth time. Clearly this yarn didn't like being knit with dpns. At this point I was getting really annoyed because the boucle texture? Super-confusing. It's hard not to catch the needles in one of the loops instead of the yarn itself. And all the loops made ripping things out an absolute nightmare. So I cast on for ribbed wrist-warmers again, except I was going to knit these flat and sew them up at the end (sewing? Also a pain in the butt). Eventually I ended up with a wrist-warmer and head-coif set (coif modified somewhat from a Knitty pattern).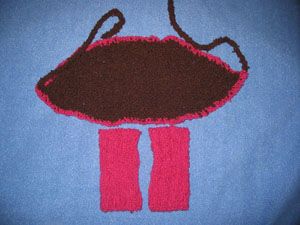 This is a fun pair of accessories, very pet-able and will definitely be warm and appropriate for the late fall (whether I have a coordinating scarf is another question), but boy, was the process of making them arduous. I wouldn't necessarily recommend this yarn for anything except small, flat, un-textured things (merino & cashmere facecloths, anyone?). I definitely wouldn't want to be making a sweater out of it.