Regardez, the Pooling Colours Scarf (Interweave Knits, Fall 2004) is done! The yarn actually behaved itself and pooled rather cooperatively the entire time. See?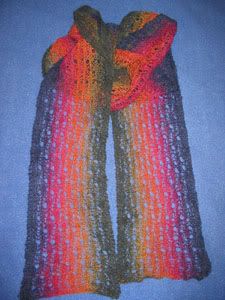 And a closeup of the pattern: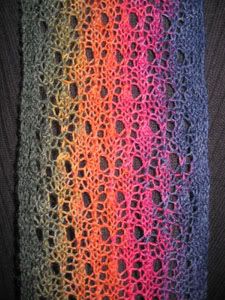 When I first started the scarf, I thought it would be cool to make it nice and long, so I could wrap it around my neck a couple of times and there would still be a decent tail to show off all the yummy colours. So I knit, and I knit, and I kept on knitting until the ball of yarn was almost gone (560 yards!). At that point it was about 7 feet long. Then I blocked it. And it grew....to about 8.5 feet. That's more than 1.5 times my height. The scarf now comes down to my knees when I wrap it around twice. But, I love it. The more rainbowy goodness the better, I say. Pictures do not accurately convey just how fun this scarf is.

Speaking of long scarves, I have finally been bitten by the Harry Potter bug (thanks Andrew!) and have also knit an Azkaban scarf, in Ravenclaw book colours.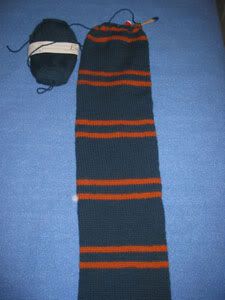 The picture is of the scarf-in-progress, but I finished it when I was back in Toronto on vacation, and this one also ended up being almost 8 feet long. I'll try to get another picture of it soon. It was easily the most mindless knit I've ever had, stockinette tubes on circular needles are great! And the periodic colour changes served to break up the monotony somewhat. I love these colours together, and this scarf should keep me nice and warm in the dead of winter.