Yes, I know that's a boring title, but I'm not feeling very inspired today. =)
Clapotis #2 is done! The knitting got really tedious towards the end, but I think the final product was totally worth it. She still needs a good blocking (maybe, I'm tempted to just leave her the way she is because I'm lazy, but I've heard that Silk Garden softens up a lot after being washed), but she looks perfectly lovely otherwise. I love the contrast of the horizontal stripes with the vertical dropped stitches!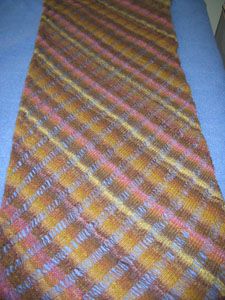 And a poorly-taken photo of her being worn around the neck: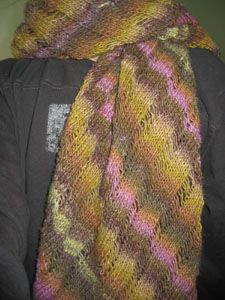 Project specs:
Clapotis pattern from Knitty
6 skeins of Noro Silk Garden, colourway 34
I did one fewer increase section, so the scarf would be a little narrower and I'd get more mileage out of each colour change, and I think I did 2 or 3 additional straight sections. I wish there were a little bit more purple in this dyelot, but I still love love love the colours.
P.S. WTF is up with all the popups? Are you getting the popups? How can we get rid of the popups?!?