Well, I finally got around to pawing through the stash. I gotta say, looking at the stash on an Excel spreadsheet and looking at it in person is completely different. There was a lot of yarn that I thought I wanted out of my life, but then I dug them out of storage and fell in love with them again. Someday I'm going to have a yarn cabinet, with glass doors, so I can keep my stash in a contained location but still be able to admire its beauty. This hiding yarn away in dark closets where I forget they exist thing has got to stop.
So, here is some yarn that I would be willing to send to a better home. Not because it's unloved or unworthy, but because I can't see what I would make with them. I had some ideas that didn't quite pan out though, and I'll share those with you:
Firstly, 2 skeins of Artyarns Supermerino in colour 110. This is lovely sproingy yarn, I had originally thought ankle socks! (I think you probably need 3 skeins for a full pair of socks), but then I realized duh, I won't wear merino ankle socks ever, will I? One example of making-up-projects-to-justify-the-yarn-purchase. Other possibilities include a hat, or mittens, or a short scarf.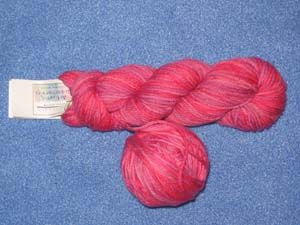 Secondly, a single skein of Alchemy Reservoir (wool and mohair), in the colourway Scarlett's Dark Secret (sorry for the fuzzy pic). I came across this lonely skein in my LYS and felt sorry for it, so I brought it home. Originally to be a headscarf. It would make a lovely hat with its subtle colour changes.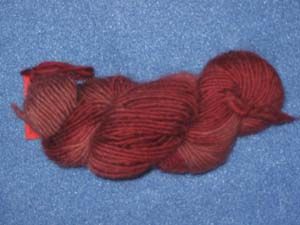 Next we have a skein of Rowan Plaid, colour Sea Thistle (#164). I bought this because the pink and purple exactly matched a scarf that I have, but 1)I haven't worn that scarf this year yet, and 2)I question how a chunky hat made out of that would actually look on my head. I'm still willing to find out, but there are about a million other things that come before this yarn on the to-knit-next list.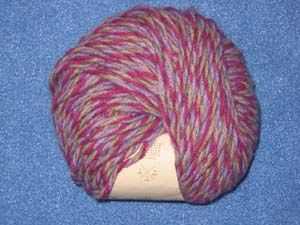 Next, 2 skeins of Lamb's Pride worsted in a white/off white colour. Originally purchased because I wanted to play with KoolAid dying. I also have the unused packets of KoolAid. =)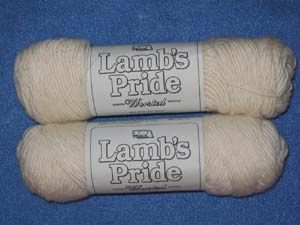 Finally, Jaeger Matchmaker 4-ply, in shade Bloom (#547). I bought this to knit a short-sleeved sweater, but I've pretty much admitted that that's never going to happen. I have 5 skeins of this, there are about 200 yards per skein. 2 skeins would make fun pink socks. Or probably some adorable baby garment. There is also enough for a lace shawl of some sort, but I don't think I'd ever knit a shawl in this particular shade of pink.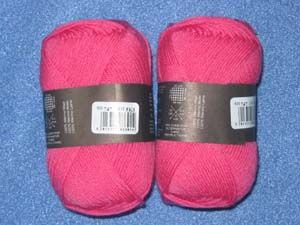 OK, that's it. Sorry for the rambling! But as you can see, each of these yarn purchases was carefully (or not-so carefully) thought out, and at least I avoided the sale bin and novelty yarns. =) Anything you might be interested in, just let me know!