I've spent a lot of time in the car over the past week, what better time to catch up on some knitting? I drove with my parents and sister down to NYC for Labour Day weekend, and our departmental retreat was this past Thursday-Friday way up in northern New Hampshire, I think in total that makes about 10-11 hours in the car (but I was driving for some of that). So I finally have some FOs to show! First of all, I finished the second Koigu sock:
The toe grafting on the second pair of socks went much more smoothly. I want to learn how to knit socks toe-up, maybe with the next pair. These ones are a little loose, even though I pretty much got gauge with the US2 dpns. They are still fun and warm, though
Also, a fuzzy stripey scarf using Schachenmayr Brazilia Fantasy Color yarn. I'm usually not a huge fan of eyelash yarn, but this was pretty fun to knit with. And it's self-striping, so it does all the work for you! I cast on 24 stitches using US11 needles, and knit a 4x4 rib pattern until I ran out of yarn. Yarn and pattern both courtesy of
The Knitting Garden
. The only annoying thing is that the red dye from the yarn stained my bamboo needles a bit, so now they are slightly pink. Grrr.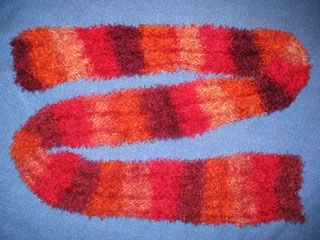 I have 2 hats which could be worn with the scarf, an orange one (pictured below, please ignore the shiny forehead and cheesy smile) and a red one. Except the scarf is all polyester so it probably won't be adequate for super-cold days, which means I will have to make another coordinating scarf using warmer materials. Oh drat, does that mean I need to buy more yarn? =P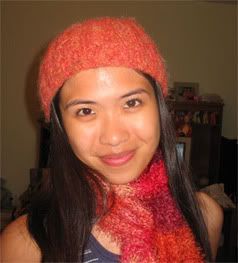 One more thing before I wrap up this never-ending entry. I'm putting myself on a yarn diet until at least the end

of September and maybe into mid-October, with the exception of Christmas present yarns. A girl can't live on yarn alone, I need new clothes for fall/winter, and my poor grad student stipend can't support multiple shopping habits. Boo.