Since it's been 5 days since I bought size 8 dpns to knit the kitty hat, I figured I should hurry up and swatch my yarn so I could exchange the needles if I had to (the policy is thin a week). I pretty much knew I'd get gauge since I used Cascade 220 during my knitting class last year, but hey, better safe than sorry, right? So here is a little swatch, on the right in the picture (I had some pink leftovers), and yes, I do pretty much get 4.5 stitches/inch. I know the gauge is supposed to be 4.25 stitches/inch, but hey, I have a big head. So now I just have to wind the yarn into a huge-ass ball, and I'll be ready to start the mini-kitty hat-along!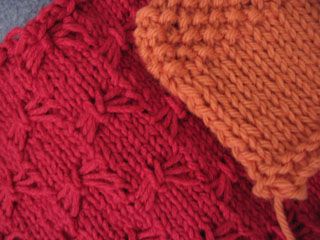 On the left is one of my Calmer swatches, using a stitch called
little butterfly stitch
. It was fun to try out.
I have also been pondering Christmas presents since you mentioned them in your last post, Karen. So I took myself to Woolcott today in the hopes of getting inspired. I did pick up a couple of things, but I won't go into details. The only thing I will say is that the Debbie Bliss Alpaca Silk was waaay too irresistible for me this time. So I picked some up to play with. The colours are totally gorgeous. =)