Okay...I hope I've got this figured out...I can be such a doofus when it comes to these things sometimes...
Here's a baby blanket that I made for my cousin. She's due in September, so I needed to get this done pretty fast. I think I spent about 2 months on it. I had to drop all my other projects though. I know that she's having a girl, but I still used lots of blue. Can I help it if it just happens to be my fave colour? At least I edged it in green...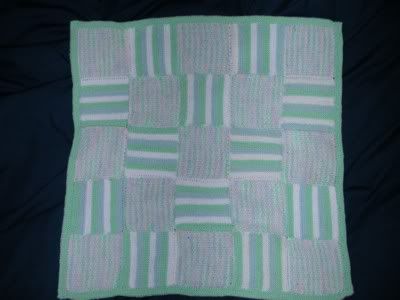 I just realized that the direction that I took the picture in wasn't the best. I tried to alternate the stripes, but it doesn't quite work in the orientation that I took the picture in. Oh well...it's still a fun blanket.