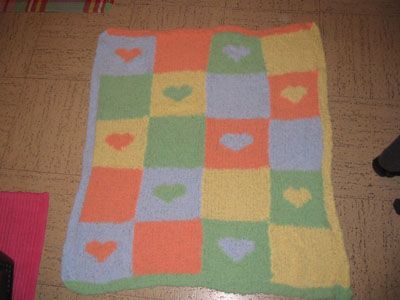 Since Karen showed her fabulous and nummy baby blanket, I thought I'd post a pic of the blanket I made for my cousin's baby, which took me 6 months to make (well, I took a looong break before sewing it together)! Luckily I finished it *just* before the baby was born. It's made from 4 skeins of Paton's Pixie yarn, and the pattern is Sirdar pattern 3980, with a few modifications for gauge changes. The yarn is fantastically soft and fuzzy, but not that fun to knit with! No stitch definition whatsoever. =)
My current "large" project is a sweater from
Vintage Knits
by Sarah Dallas (which was a gift from the lovely Karen), the short-sleeved sweater with mohair stripes. Here are the front and back, in all their unblocked and curly glory: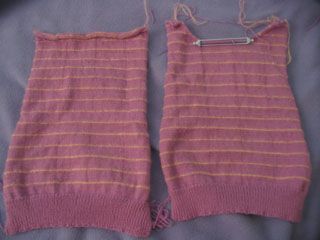 And here are the sleeves so far:

The yarn is Rowan 4-ply soft in Buzz (sooo soft! I love it!!), and the stripes are Rowan Kidsilk Haze in Pearl (it looks really yellow in the photo, but it's actually a pale off-white colour). It's my first sweater, so I really hope it turns out ok!