OK, so my intentions were pure. They really were.

I left the lab a little early today, so I decided to take myself on a little trip to A Good Yarn, intending to buy some Mission Falls yarn for my kitty hat. Turns out that they only sell Mission Falls cotton, so the quest for a replacement yarn began. And that's when the yarn fondling began, and after that it was pretty much all downhill from there. So much for a quick single-minded mission!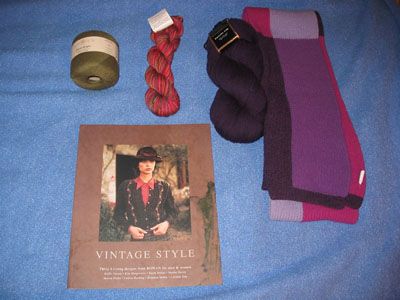 So what did I buy, exactly? First of all, a skein of Cascade 220 yarn in colour 2410 for the kitty hat, in the picture it is next to the scarf that I'm matching it to. I forgot to get dpns though, oops! Also, Rowan's new book Vintage Style which is very droolworthy. I think there are at least 3 or 4 projects which look yummy after a first pass through.
After digging through the bargain bin, I also glimpsed 4 skeins of Rowan Linen Drape, colour 851 (Amazon), and it was marked down, so of course I had to grab it! I don't exactly have a pattern for it right now, but I think it should be enough for a spaghetti strap tank top, after looking at the yarn requirements for other garments knitted with the same yarn.
Lastly, 2 skeins of Koigu KPPPM in colourway P115. It was too gorgeous not to buy. It is sort of hard to see in the photo, but it's a mix of pinks and greens and a bit of purple and orange too. There were 5 skeins there, and I could practically hear them calling to me, "Take us home please! We love you!!" 5 skeins would have been enough for a lacy shawl, 3 skeins enough for a lacy scarf, but a little bit of my common sense prevailed so I only bought 2. I couldn't have just bought 1, then the lonely skein would have no company in my drawer! Not sure what I'll do with it yet, though. They are definitely not destined to become socks, they are too pretty to be put onto stinky feet. Maybe I'll turn one into a pair of mittens. Or maybe a lacy headscarf. Or maybe both. Maybe I'll just keep both of them to pet and admire. =)
I also got to touch some Debbie Bliss alpaca silk, the new yarn. Very very soft. Very very tempting.
In knitting news, I have just been playing with my ball of Calmer. It's a fantastic yarn, super-soft, and it definitely lives up to its name. I took pictures of my swatches, but the stitches are really hard to see after I shrank the photos down (they look like boring pink squares) so I won't post them here (boo). I will have to buy more of this stuff in the future.