In the spirit of blowing more money, behold the latest addition to the yarn stash! Silk Garden in the very lovely, very rainbow-y colour 87. Isn't it pretty? I'm such a sucker for rainbow-coloured things. I think that is probably the greatest appeal of yarn shopping for me, looking at all the pretty colours sitting together in the store. That probably also explains why I like to accumulate handpainted sock yarn. Le sigh.
I have already started knitting with this stuff, it is rather too bright for me to make a sweater out of, so a hat and scarf it is. Oh, I should mention this yarn was from eBay, so slightly less pricey than usual. =)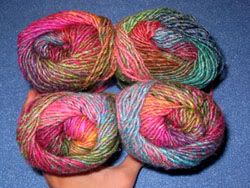 The Kathmandu Aran mittens are also finished, here is a crappy photo. The yarn knits up much stiffer and tweedier than I had anticipated, which was a little annoying, but I just gave them a little soak so we'll see if they get any softer. The mittens are also slightly big; I wonder if this yarn felts at all?