As promised, here is Charlotte as of this morning: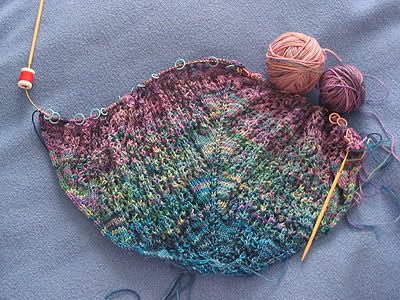 The shawl is basically a series of 16-row repeats, where every 16 rows one either knits with one colourway only, or alternates between 2 colourways. I've finished the all-purple section, and now am moving on to the alternating-purple-and-pink section. I can't wait to knit with the pink! Currently there are about 180 or so stitches on the needles, and by the end there will be something like 300. It looks nothing like the finished product right now, hopefully after blocking the lace pattern will reveal itself. =)
So far it's been a fairly easy knit, the pattern isn't too complicated and stitch markers make things easy to keep track of.
In other news, I've broken my no-new-yarn-until-after-Charlotte (except for gift cashmere) promise. I couldn't help it, the Koigu is like crack. I went to Woolcott to buy some yummy white cashmere to make my godmother a Caryl's Kerchief (on the left), then I just had to go through the KPPPM stock and these 2 colourways just begged to be rescued (on the right, P107 and P117). Aren't they pretty? Argh, I have no willpower. I think maybe the solution is just to avoid yarn stores altogether, huh?