Happy New Year! I haven't posted for a while, so here are photos of some 2004 FOs and a new project for 2005. I meant to take photos of people wearing their knitted gifts, but I'm a dork and forgot so maybe next year. First is a multidirectional scarf in Kureyon that I made for my sister:
And a hat made from Green Mountain Spinnery mountain mohair (with a stripe of random Lion Brand yarn for variety) for my dad: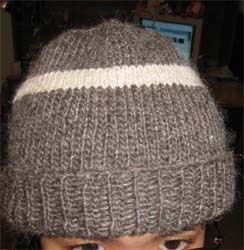 I made my mom a feather-and-fan scarf out of Koigu Kersti but I forgot to take pictures of that one. Yes, I'm really on top of things, aren't I? =P
And the first project of 2005, Charlotte's web. I spent some time rearranging the skeins, but I think this is the order of colours I'm going to use. I'm not 100% sure yet though: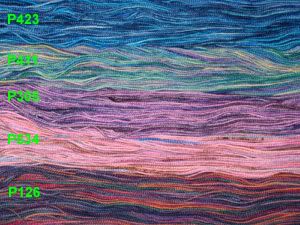 As for 2005 knitting resolutions, I really think I need to enforce a yarn budget. I don't even want to calculate how much money I dropped on yarn in 2004. I also need to get a better system for cataloguing projects. And, the stash needs to be depleted some before buying new stuff. For now, I'll say no new yarn until Charlotte is done, except for some cashmere I need for a gift. More on all this later.