Alright! As promised, I took a picture of my pink mohair kitty hat. While it's a terrible photo of me, it did manage to get both ears in.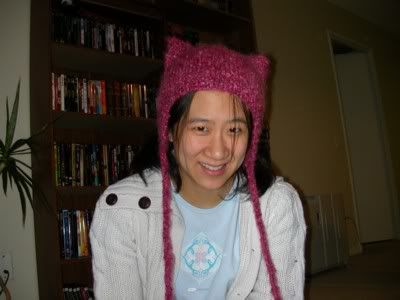 Let me tell you, this mohair while soft and fuzzy when I wear it, is not all that great to knit with. All the extra fuzzies get kinda annoying after a while. But it does make fabulous pom poms. I think I'm going to take a break from this pink stuff though. Even though I was planning to make a scarf with it, I'm gonna move to some other project first. I owe my friend Aaron some beer cozies in the Winnipeg Jets colours.

Oh yeah...and let me tell you about the other misadventure I had with this hat. I put one of the ears in a totally horrible place, so I decided to take it off, and re-do it. While clipping the old ear off, I accidentally clipped a big hole into the hat portion. DOH! Stupid me. So, I had to fix that first, and then put the new ear on. And I also goofed on the i-cord a little. One of them is a touch longer than the other, but I can live with it.