Well, there is currently an explosion of yarn in my room, but I can't talk about any of it because it's all for presents! Things are progressing pretty well so far, but my floor is an unholy mess of bags and I can't wait to get all this yarn knitted up and given away so I can buy new stuff! =P I did do some stash enhancement on Monday,
Windsor Button
was having a 20% off all yarn sale, so I picked up some Lamb's Pride worsted for a little experiment to be detailed later, and some of the new Queensland Collection Kathmandu Aran in a creamy colour for some tweedy mittens.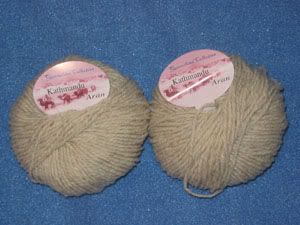 Um....and that's all I have for now. Sorry for the very boring entry. Hopefully I'll start knitting poast-able things again soon.
Oh, and check

this

out. Very interesting things-to-knit, no? =)