Okay...I

just

got home from the book party for Amy Singer's new book 'Knit Wits'. And I have to say that I had a really fun time. The book is absolutely fab. The designs are so cute (hello, ice cream tub cozy and yoga mat holder?) and I just want to make one of everything in the book!! A lot of the designers were there and I got them to autograph their patterns. They had all sorts of wicked door prizes too (knitting pattern-a-day calendar...dangerous...), but being the unlucky chump that I am, I didn't win anything. But I did get to chat with a lot of amazingly creative and super nice knitsters, and make some new friends. And here's a little something special for you, Adrienne...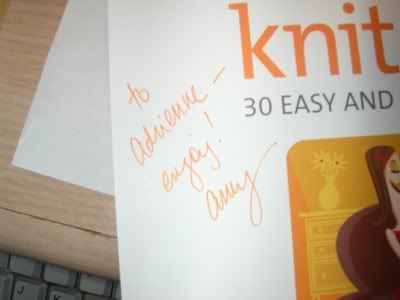 I also bought some Noro Shinano to make a scarf for my dad for Christmas. I'm going to give that pattern you gave me a try. Hopefully I won't screw it up too badly. I'll post a pic when I get further into it.

Speaking of screwing up, here's a picture of the first ear flap to my kitty hat. Can you tell me if you think it looks weird? I thought I was having issues when I was making it, but I'm so spacey right now that it kinda looks okay right now. I don't know...I must be going insane or something. But I figure that I should probably seek some advice now before I get too far on that foot-long I-cord.